Soar the Mountains on Silent Wings!
WE'RE OPEN FOR THE 2013 SEASON
'Soar the Mountains on Silent Wings' at the Pemberton Soaring Centre amid majestic snow-capped mountains rising from the lush, green fertile valleys of Whistler and Pemberton. Soar like an eagle above incredible mountain peaks, shimmering glaciers and deep valleys with our experienced and certified glider pilots!
AN UNMATCHED EXPERIENCE!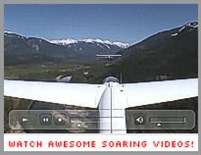 The Pemberton and Whistler area is the ultimate soaring site with unmatched scenery and flying conditions.
Our guests often describe their Pemberton Soaring adventure as the most amazing experience of their life.
Get a taste of the Pemberton Soaring Experience on Video!
NEW: OUR 'SELF-LAUNCHING' GLIDER!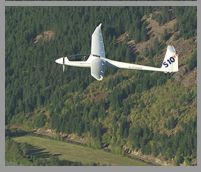 Learn all about our new Stemme S10VT glider. Watch a video featuring our newly acquired self launching glider. Our new glider provides soaring at its best for passenger rides, custom flights and instruction.
FOR GREAT SOARING
Pemberton enjoys a drier and hotter summer climate than the Whistler area and is surrounded by soaring peaks and towering glaciers.
The airport is a stunning 2-hour drive north from Vancouver and under a half-hour drive from Whistler on the scenic Sea-to-Sky Highway. Check out the current Pemberton weather and Highway 99 Road Conditions.
Give a memorable gift of flight!
Call or email us to book a Certificate. We can mail or email a copy to present to that special someone! Our selection of scenic flights is geared to fit any budget and any adventurer! A Soaring Adventure Awaits!